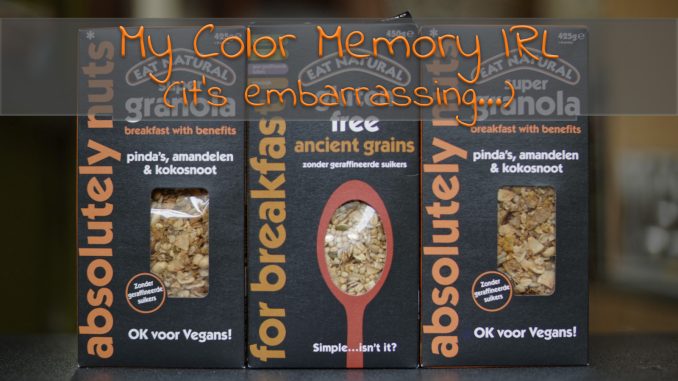 It is embarrassing, very embarrassing, especially for me… But I'm going to tell you anyway. I have to. Because it clearly shows what I've been telling for a long time: our color memory, our color perception is flawed, very flawed, unless you really focus on it. Meaning: there is a vast difference in how the printing industry looks at color versus the outside world.
CONTENTS: My Coca-Cola collection | My breakfast cereals | On and Off | Why is this important
I'm confident enough to claim that I notice much more issues with color than the average Joe Sixpack. When I go shopping, I always check the Coca-Cola shelves. I don't drink Coca-Cola, but I'm always interested in finding deviating colors. Like these two cans from a few weeks ago. Which were a nice addition to my collection of several dozens of Coca-Cola cans, with a variety of shades of red.
And when I point other people in my neighborhood, people with no relation to print, that is, to these issues, they all have that strange look on their face: "What are you talking about? Is that really an issue??? Is the print community really spending its time on this kind of futilities?"
But this morning, I found out how flawed my color memory, my color perception IRL is…
My breakfast cereals
I had already noticed that my favorite breakfast cereals tasted different. But I couldn't get a grip on it: was it a bad package? Was it out of date? Did they forget an ingredient? (Peanuts! It should contain peanuts!)
It was only this morning, several weeks after purchasing it, over a week using it every morning, that I noticed the difference: I bought the right brand but a different variation!!! (yes, you can laugh aloud now, please do, make fun of me!)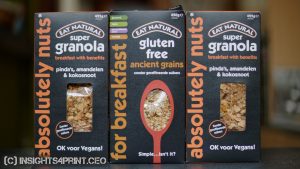 However, the error was not as strange as you might think… Look at the two packages: the accent color is in the same color region… And that's what I was looking for: a yellowish orange (or orangish-yellow). The shop where I bought these didn't have the 'Ancient Grains' variation in the past. And with the two colors being alike (that is: from a consumer perspective), and with my 'I need to get my groceries as fast as possible' mind in place, I just didn't notice the different color. Nor the different name, the different layout… For the record, the difference between the two accent colors is about 10 dE00. And I didn't notice. Me, the guy that has published dozens and dozens of articles on color…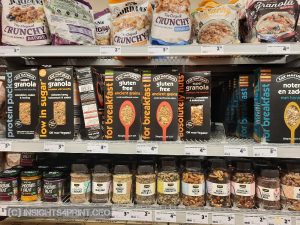 On and Off
And this reminded me that while shopping, my critical color memory is only on when I'm in the neighborhood of Coca-Cola or Kellogg's products… For other products, it's usually off… Like with most – if not all – other shoppers. And that's the difference between consumers and people doing a press check, people working in print: they are 'framed' to look for – often very tiny – color differences. It is their job to spot tiny color differences (even if there are none!), the kind of tiny color differences that wouldn't get noticed in real life, being: in a situation without that 'color framing'. The average shopper has a very different mindset: getting out as soon as possible, finding the cheapest stuff, … (please do check the results of this survey on shopping behavior)
I've seen multiple studies showing that our color memory, even color vision is flawed. Most studies come from outside of the printing industry and therefore not having that bias towards wanting to confirm the supposed importance of tiny color deviations,
Why is this important?
For a very long time, even decades, some in the industry have claimed that consumers are influenced in their shopping behavior if brand colors are not spot on. Even referring to studies that are actually about something very different. However, if you look at studies about our color memory, how we can compare colors, what influences shopping behavior and just real life, you see a different picture.
Because the printing industry is framed towards color, people in the industry become very critical about color, they will even see the tiniest difference (especially in a P1 'critical comparison' setting with a huge amount of light: 2000 lux). But in real life? Even people involved with color, people who have a lot of color knowledge, don't always have their 'color critical' mindset active. We are all humans, and with a mindset that's not by default on color, we just don't notice what the printing industry considers obvious…
PS: it also took me several weeks before I noticed the differences in the blue of these Dash packages… And I have bought cans of Coca-Cola in the past because I was 100% sure they looked very different, which eventually turned out to be an exact match to the previous one.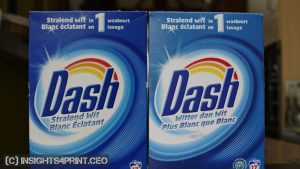 UPDATE 13/01/2022: I just published a new article, which kind of explains what happened to me when shopping for breakfast cereals: during shopping it's one part of our brain that is active, System 1, which is fast but inaccurate. And System 1 is very different from System 2, the part of our brain that is active during press checks and similar activities. Check out the article!
(Visited 239 times, 1 visits today)