For the record: I didn't come up with the moniker 'Printing Industry Provocateur' myself.
It was given to me by Elizabeth Gooding, from Inkjet Insight, since I do address controversial topics, often from a special point of view. And I have to admit, I appreciate it! I feel flattered by the moniker…
Mary Schilling, also from Inkjet Insight, once called me 'one of the honest good ones'. (which made me blush)

When starting the promotion of Project BBCG – A Better Brand Color Guide and exposing the flaws of the 2023 version of Pantone Color Guides, someone even called me an 'innovator'… (which made me blush even more).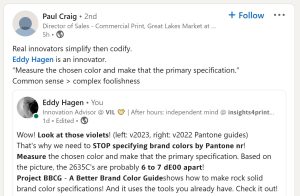 And when doing some researcht with Google Bard, the AI chatbot said the following: "(…) Eddy Hagen, a well-respected expert in the printing industry. Hagen is known for his critical and objective assessments of new printing technologies."
If you like thought provoking topics, I'm available for presentations, writing and research.
I'm based in Belgium (Antwerp) and speak English, Dutch, French and a little German.
You can also check my LinkedIn page.
You can use the form below to contact me.
(except for publishing guest articles on my blog, I don't do that)
(Visited 1,735 times, 1 visits today)