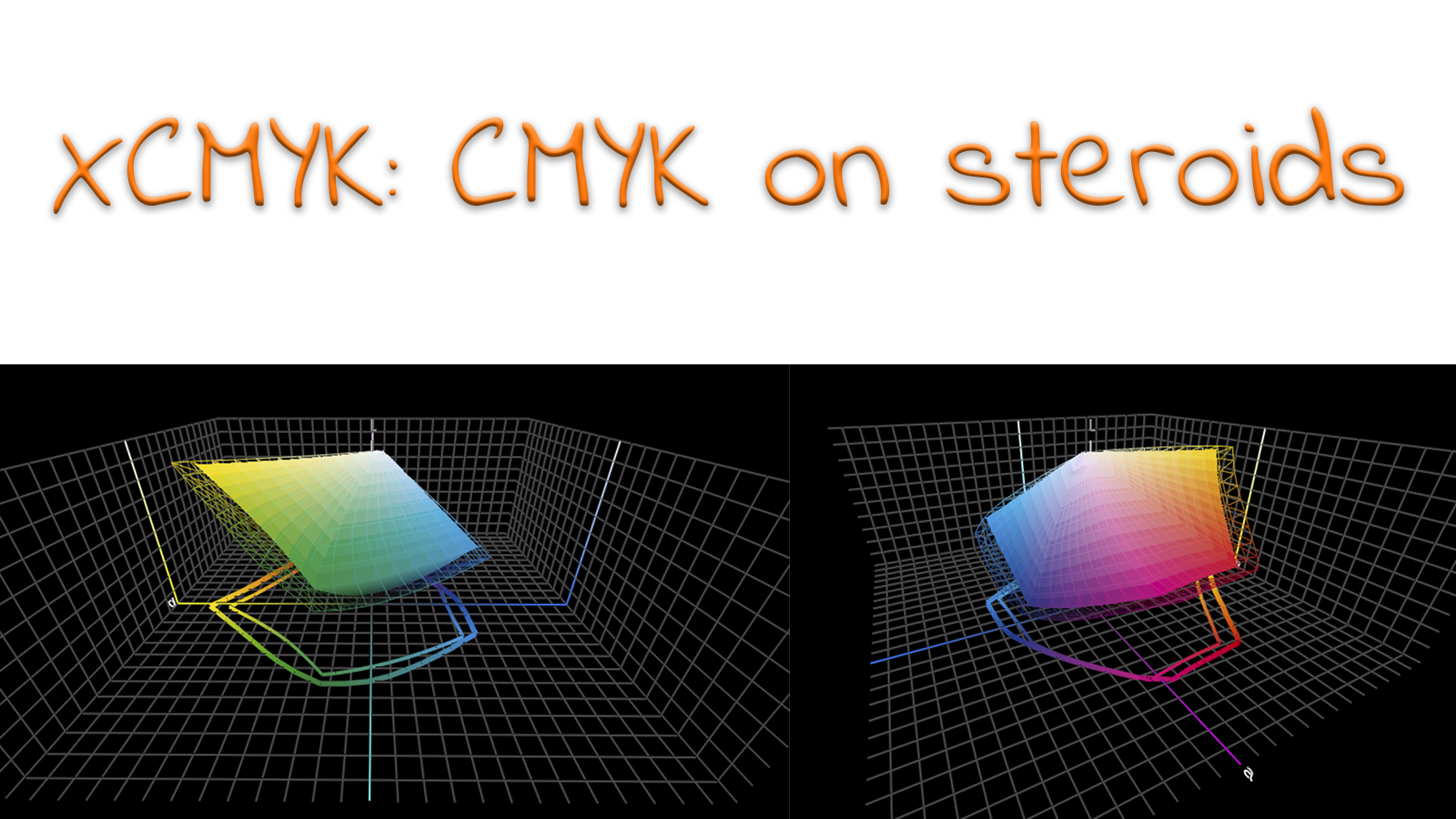 Over the last few decades, print has seen a significant increase in quality. Just go to your bookshelf and take a look at an old book with color pictures to see it with your own eyes. And still today efforts are made to increase quality. One of them is certainly worth a look: XCMYK. Which delivers an expanded gamut with regular CMYK inks, in a four-color process… If that isn't a nice proposition!
CONTENTS: Background | Gamut comparison | Real life | How to proceed? | Why is this important? | Updates
Background
XCMYK is an initiative from IDEALLIANCE and was released just a year ago. It is the result of a 15 months test period, at 26 international test sites (mainly North America and Asia). And there was a 100-person task force, from 88 companies, behind the project.
The interesting part of XCMYK is that it uses regular CMYK inks that are compliant to ISO 12647-2, but with a higher ink film thickness and by using a non-traditional screening, e.g. FM screening.
Gamut comparison
The big question with this kind of solutions is of course how big the gamut is compared to 'regular' printing. Let's compare it to PSOcoated v3, which is often used in Europe for printing on coated paper. Below you see the gamuts compared, with the XCMYK as the wireframe.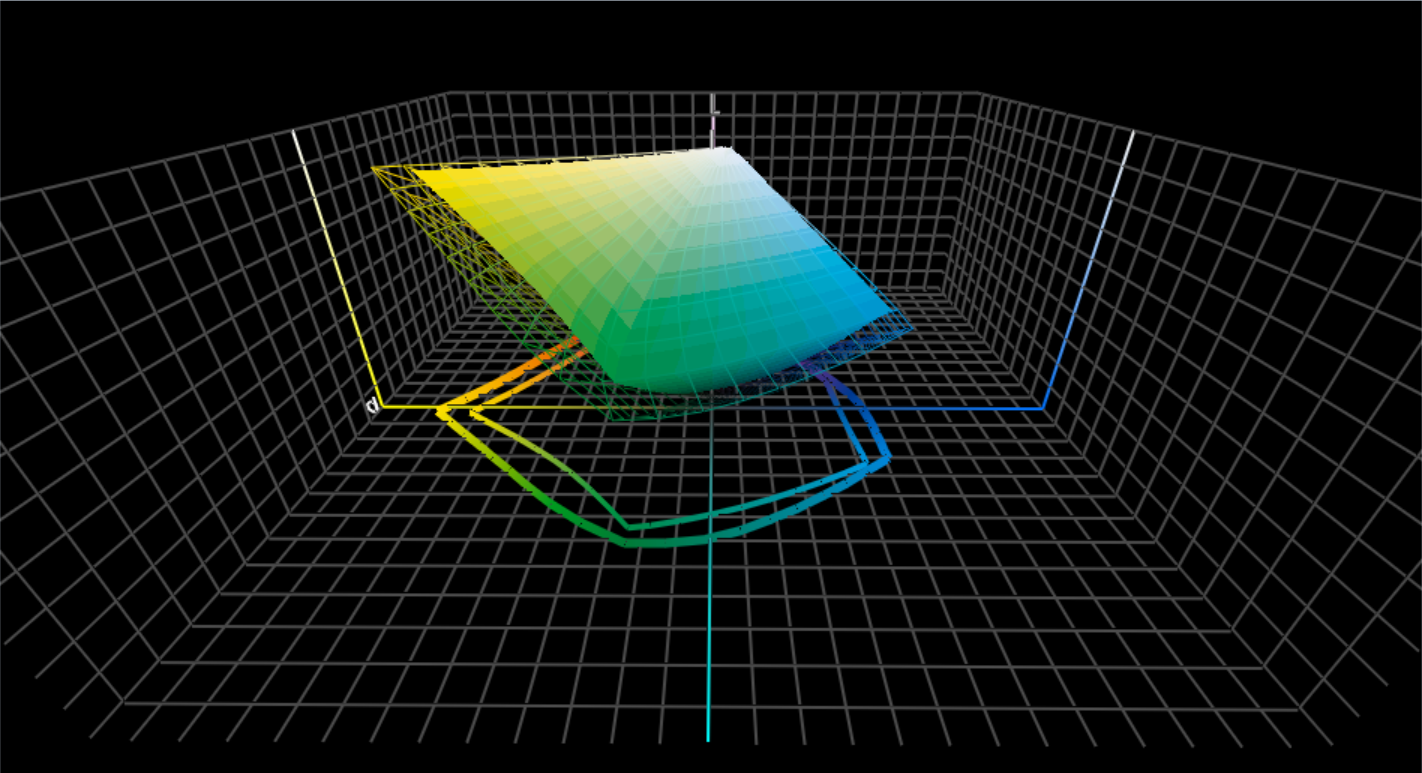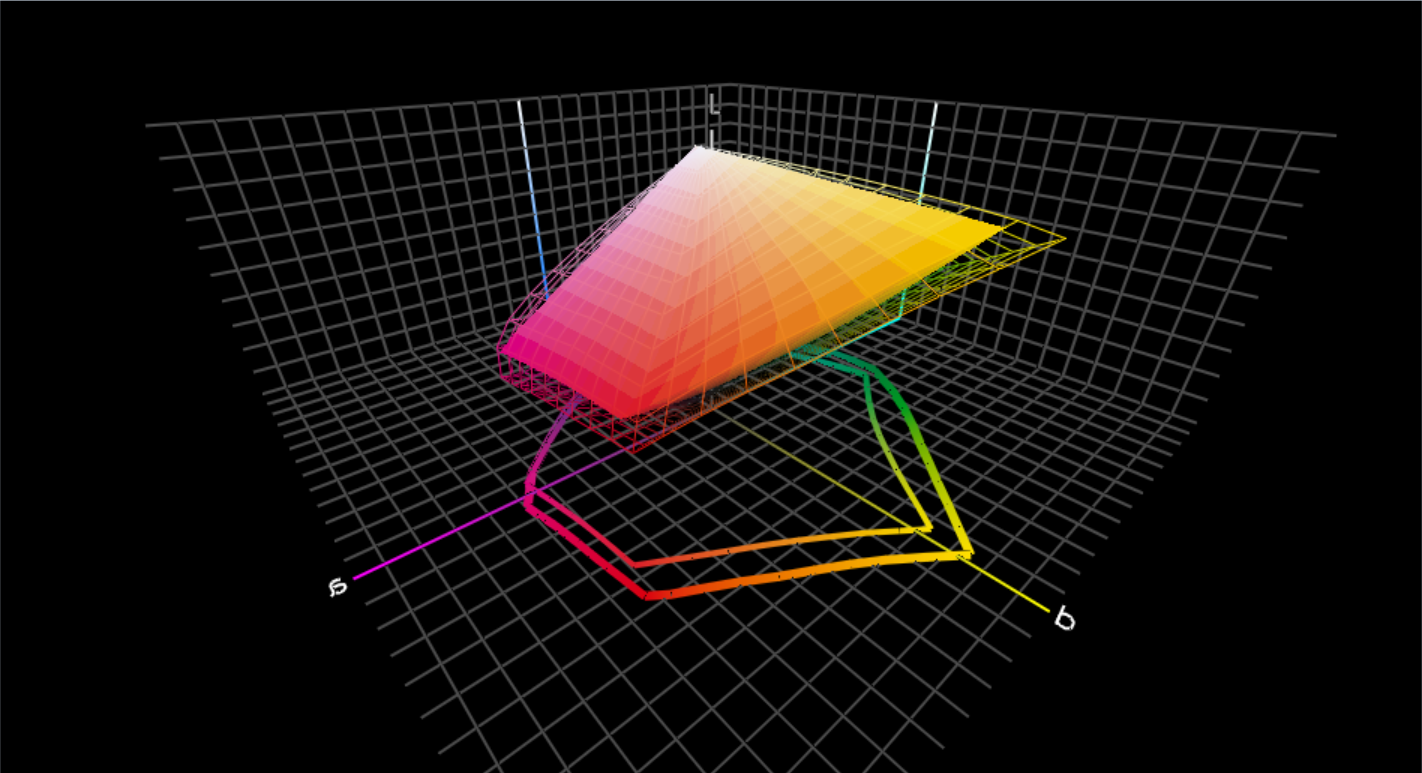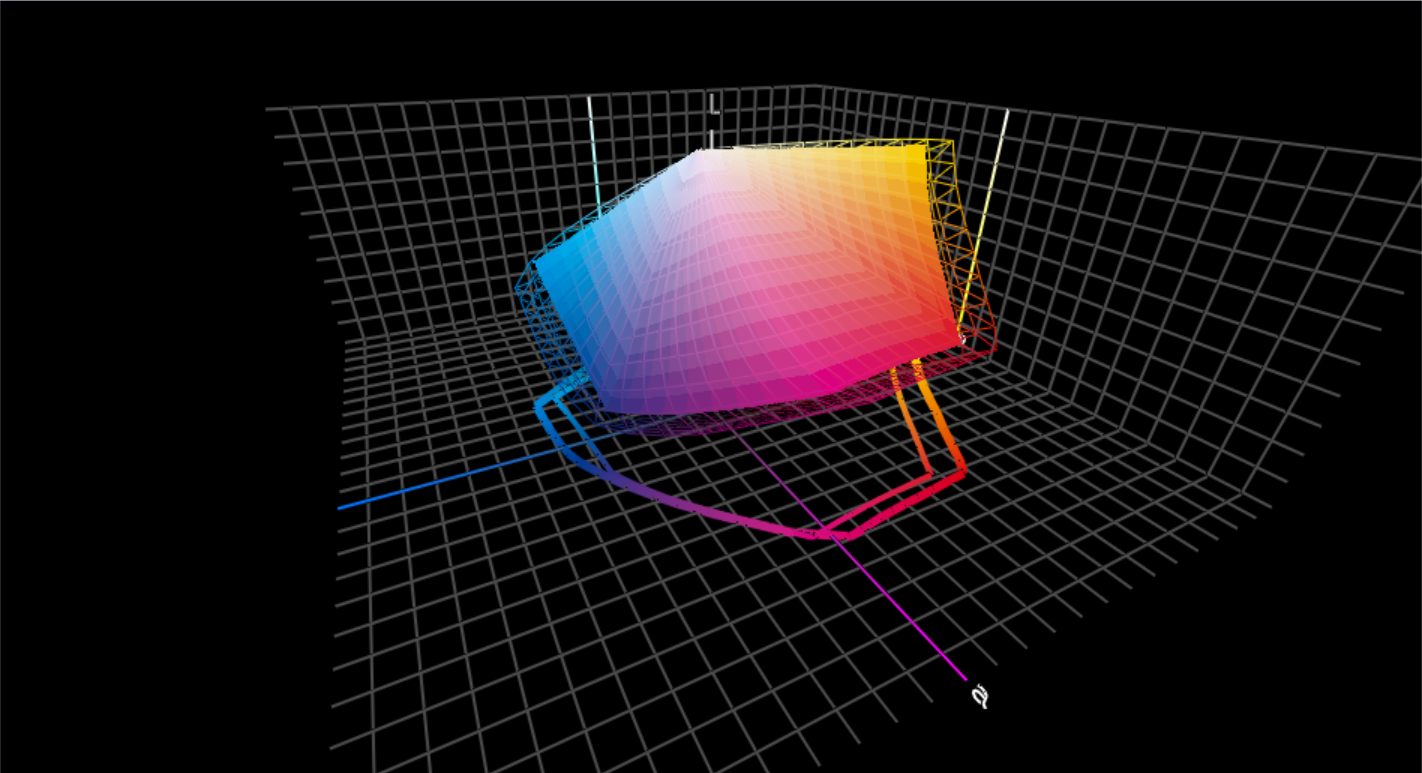 So the gamut comparison shows that XCMYK is bigger than regular CMYK, but what does that mean for print designs? An interesting study was done by Kiran Deshpande, Colour & Print Management Specialist at Multi Packaging Solutions in the UK. He compared the XCMYK gamut with a number of other gamuts. When looking at the volumes, XCMYK is 46% bigger than GRACoL2016 CRPC6, 43% bigger than FOGRA51 (PSOcoated v3 ICC-profile).
Also interesting in his study: a small fraction (2,38% of the XCMYK gamut) could not be reproduced on the proofer he used…
But maybe the most important comparison was with CMYKOGV, which is a 7-color process consisting of CMYK, expanded with Orange, Green and Violet. A process which is used in packaging. While CMYKOGV uses 7 inks instead of 4 with XCMYK, the gamut was only 14% bigger than the XCMYK gamut. If you look at the extra costs, especially the bigger printing press needed, that's a very interesting finding. And packaging printers should look into this.
Real life
While the test mentioned above clearly shows that the XCMYK is significantly bigger than regular CMYK and therefore it can reproduce more colors, the question is what this means in real life.
More spot colors can be simulated, limiting the need for an extra ink. Artwork designed in CMYK will look more vibrant.
And what about pictures? That's what I tried to find out in a small test, with a simulation in Adobe Photoshop and a calibrated monitor with a gamut that (nearly) covers the AdobeRGB colorspace. Being a photographer, I took a dozen of colorful images from my archive, most of them of flowers, but also some landscapes. When taking pictures of landscapes, I always use a polarization filter and I also boost the blue in post-processing, to get really blue skies (which I like). Also, the colors of the flowers were 'boosted', making both types of pictures interesting for this test.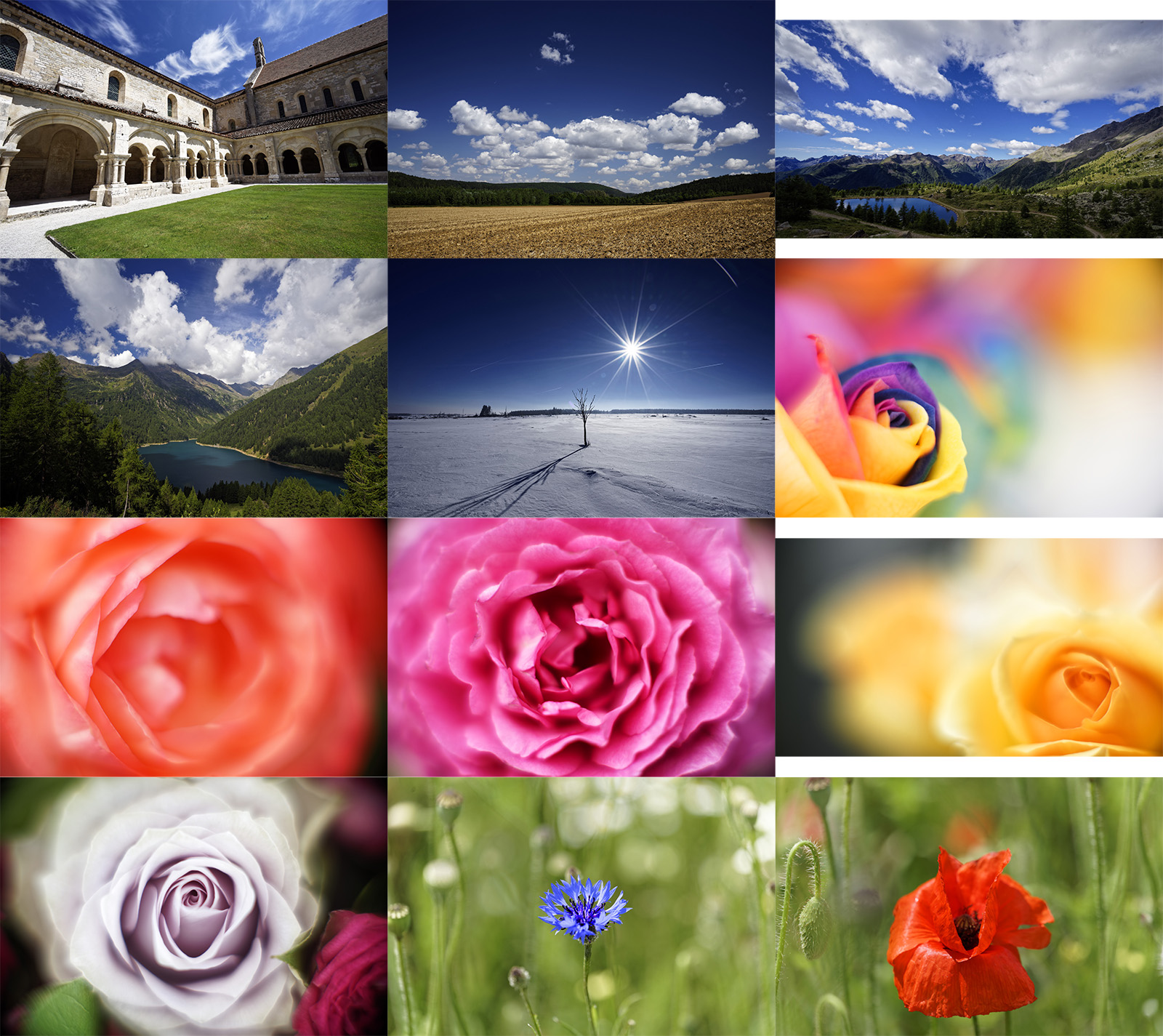 When converting these images from AdobeRGB to either PSOcoated v3 or XCMYK 2017, there are some minor differences visible between the two profiles. Only in the blue skies, there was a quite noticeable difference, with a much better rendering in the XCMYK profile. When adding the paper white in the proof simulation setup, also differences in the greens and reds become more visible, but they are still limited. So there is a – slight – improvement in pictures.
UPDATE: check out these two articles: on my quest to find a printer for my photobook, and the final result!
How to proceed?
If you have to print a lot of brand logos and artwork, you might want to test XCMYK and see if it has advantages for your typical work. If you have a lot of images with blue skies, my tests revealed that the XCMYK is an improvement. Vibrant reds and greens show a slight improvement. But maybe the biggest advantage of XCMYK is that it is a standardized process, forcing everybody to work according to a certain procedure. And that means a more consistent production, which is already an advantage in itself.
If you have a lot of brand logos and artwork that are still outside the XCMYK gamut, you might want to wait for another project that IDEALLIANCE is working on: a 7-color process, CMYKOGV. If this will also show an increase of color gamut over the existing extended gamut systems, that would be very interesting for the packaging industry.
Why is this important?
If you can enhance your print production with a few simple tricks that don't require expensive investments (7-color press) or more expensive consumables (special inks), that's already enough of a motivation to look into it.
PS: you can download the XCMYK ICC-profile from this page.
UPDATE 21/12/2017: I didn't mention one aspect of XCMYK in the original article: ink consumption. To get to the bigger gamut, XCMYK uses more ink. But it's a bit more nuanced than you might think: IDEALLIANCE has used some interesting tricks in the XCMYK profile to lower the ink consumption.
First: the total area coverage (TAC) is lower than e.g. in the GRACOL2006 profile. That TAC is the darkest black you can get, adding up the maximum percentages of all inks used, and this can be very different depending on which ICC-profile you use for converting RGB-images to CMYK (more on that in this blog post, where also the visual impact is discussed: Not all black is designed equally). In the case of GRACOL2006 this is 320%, in XCMYK this is 300%.
Second: XCMYK also applies a more aggressive 'grey component replacement' (GCR). This defines how 'grey' is reproduced. This can be done with using about the same amount of CMY, or you could only use K (black ink). In the first case you use more or less three times the amount of ink, plus it is less stable on the printing press: small deviations in one or two of the colors will deviate from a neutral grey. In the picture below, you can see the curves of both the GRACOL2006 (left) and the XCMYK profile (right). And you can see that XCMYK replaces CMY by K already with 'lighter' colors.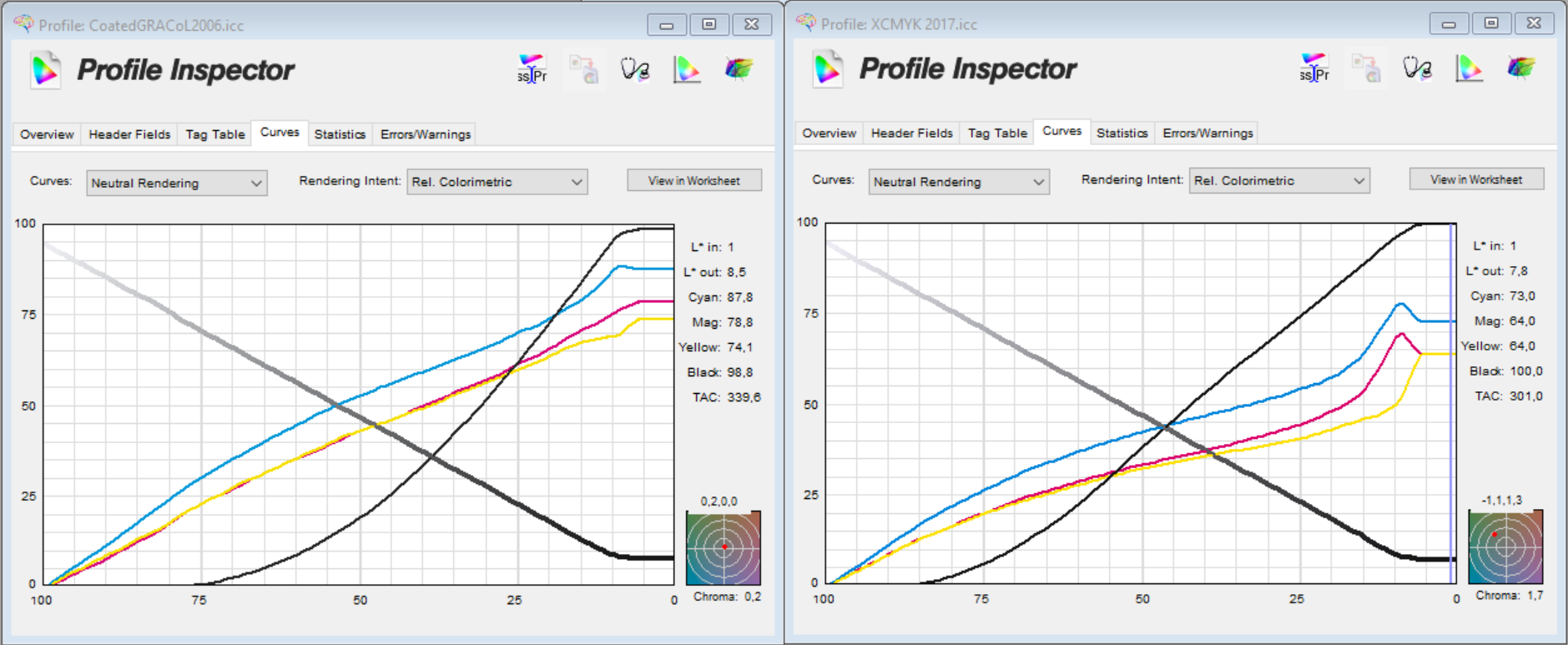 Both the lower TAC and the more aggressive GCR result in lower ink consumption, if you would use the same ink densities. In the case of XCMYK, the higher ink usage due to the higher densities is at least partly compensated with the use of the lower TAC and the more aggressive GCR.
UPDATE 26/04/2020: although XCMYK has an interesting proposition, it's very difficult to find a printer using it, as I found when looking into publishing a photo book.
UPDATE 26/09/2020: I have hands on experience with XCMYK! Check out this article, covering my 'corona photobook' with lots of deep blues, which are impossible to print with regular CMYK.
(Visited 2,864 times, 1 visits today)