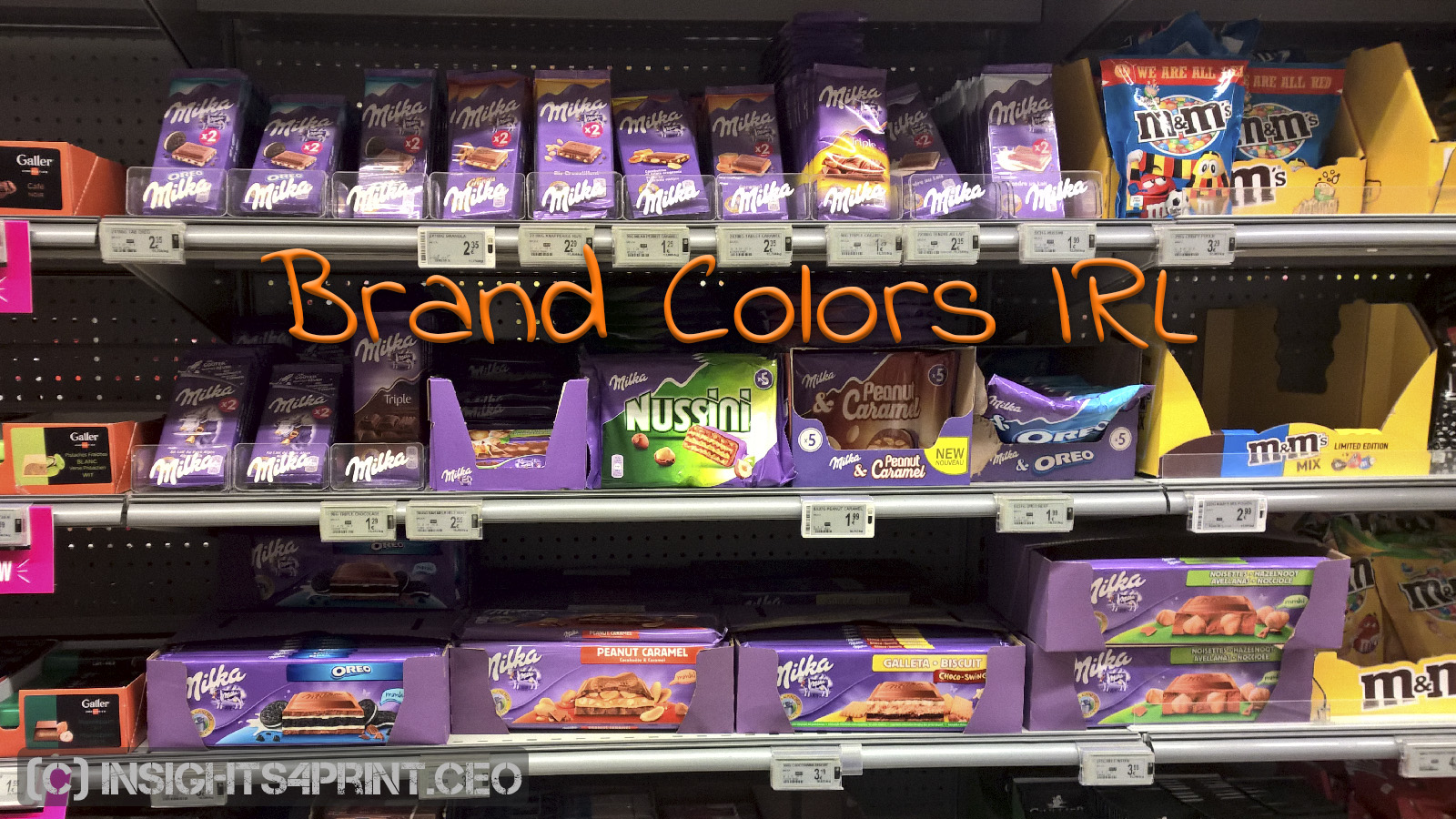 The publication of the groundbreaking color study did generate some attention. Especially my plea for a more realistic, less fanatic approach to color tolerances in real life seemed provocative to some. I e.g. got a mail from somebody who is quite familiar with Milka, stating they would never tolerate a dE of 3. Not having Milka candy at home, I headed for the supermarket. Here's what I found.
In the picture below you can see the aisle in the supermarket. Specifically looking for color deviations, I first picked the one with the most vibrant purple (the large Milka Oreo, the far left in the bottom row) and looked for the one that seemed to have the highest deviation compared to the vibrant one. At first, I thought the one at the far right had the highest deviation. But when picking one up and comparing it to both the Milka Oreo and the one next to it, it became clear that the placement and lighting conditions were deceiving me (and all other shoppers): the second from the left (Milka Peanut Caramel) had a higher deviation! This already shows the most tricky part of the color evaluation in a supermarket: placement and light/shadow have a huge impact on the color perception. This environment is absolutely not comparable to the conditions of a light booth, of a press room.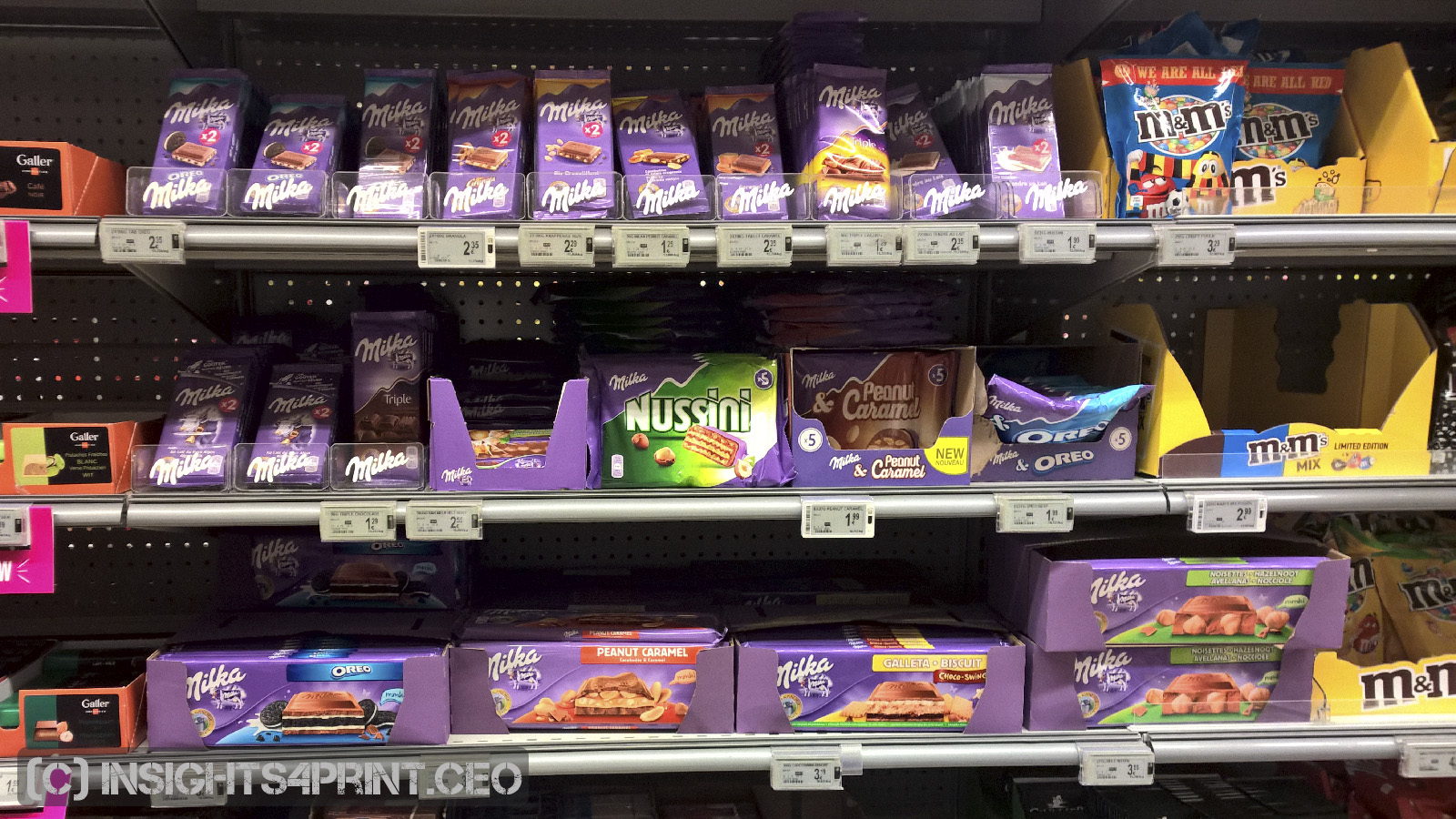 Eventually, I ended up with five packages of Milka products. Two large packages (Milka Oreo and Milka Peanut Caramel), a small package (Milka Oreo) and two very different ones (Milka Hazelnuts and Milka Mouelleux Choc & Choc). And the colors: not within that tight deviation that some people are demanding…
When taking the small Milka Oreo as the reference, I got following deviations:
Large Milka Oreo: dE76 2,9 / dE00 2,4
Large Milka Peanut Caramel: dE76 6,4 / dE00 3,4
Milka Hazelnuts: dE76 4,6 / dE00 3,9
Milka Moelleux Choc & Choc: dE76 14,1 / dE00 7,9

And now the 100 million dollar (or euro) question: did this color difference influence buying behavior? I guess not. As I told you, I specifically looked for packages with color deviations, spending significantly more time than the average user looking at the packages. And even then my first assessment was wrong, due to the placement and light/shadow. Customers only interact a few seconds with packages, they probably don't even notice the differences. Or if they do: they care more about getting their preferred product and getting out of the supermarket as fast as possible than a color deviation.
For the record: the package with the highest deviation wasn't placed in the same aisle. So there was no reference to compare it too, expect color memory. But that is, as I mentioned before and also showed in this test, our color memory is very poor.
And also for the record: the color deviations did not influence the taste, the quality of the Milka products.
Why is this important?
Some brands, some print buyers are too demanding when it comes color deviations. In real life, consumers are much more tolerant to color deviations than many assume. The brand color is used to recognize a brand, a package, but it's only one aspect. And our color memory is not accurate enough to distinguish small deviations. As I showed in a previous test: you could easily swap Coca-Cola red by Adobe red.
And don't forget: rejecting print jobs purely based on the color deviation also has an ecological impact, next to the financial impact for the printer.
PS: in case you feel the urge to respond to this article, please do. But: if you reference that infamous Loyola University study about the importance of color in interactions with products, please do send me a copy of that study. My friend John 'The Math Guy' Seymour recently went on a quest to find that study, but despite millions of citations, the study itself couldn't be retrieved. (UPDATE 27/02/2019: after a long search I got a copy of that famous study, and it's not about print quality!)
UPDATE 21/04/2022: I recently saw the following picture in a digital (!) brochure. All of these packages have a different kind of purple. If the brand color is sooooo important, this should not happen. There is only one variable here: the original images.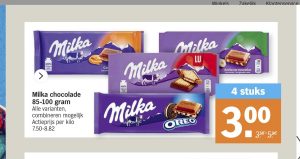 When I published this on LinkedIn, I got a reply that these images come from a variety of sources (packshots, digital renderings, …). But that should not be a reason to have no quality control at all! These should either have exactly the same brand color, or the brand owner should admit it doesn't matter that much, that also print jobs can have this kind of deviations.
(Visited 2,352 times, 1 visits today)