6

min read

In my previous article, I discussed the tolerances that the tools used in print quality control have. At least: in theory. To check this in practice, I launched a survey: 'Your color guide and You'. The goal was to get an idea of how people use color guides in daily life. With an additional assignment for volunteers: the measurement of four patches in those color guides. The goal? To know if the theoretical tolerances I mentioned in the previous article are also there in real life. At this moment (19/03/2019), 46 people participated, with 19 also supplying measurements. Although it's still a relatively limited sample, the first conclusions are significant. Let's dive into the numbers!
CONTENTS: Participants | Age | Measurements | Where did we go wrong? | CxF to the rescue? | Why is this important?
To start, here's a breakdown of all participants. The first number is the number that answered the first questions regarding the use of the color guides, the second represents the number that also provided measurements.
Print buyers: 12 / 2
Print production (incl. prepress): 24 / 13
Suppliers: 10 / 4
Most people use the color guides both for picking colors and as a physical reference for print jobs/press checks/ink mixing (63%), with 26% using it only as a physical reference and 11% only for picking colors.
The importance of an exact color match between the color guide and print jobs, on a scale from 0 (not important at all) to 4 (critical), is on average quite high: 3,2. And it's a bit higher for print buyers (3,5) than for the other two groups (both 3,0).
Age
But let's move to the more interesting stuff: how old are the color guides used? In case you read the previous article, you will know that Pantone advises replacing the color guides every 12 to 18 months. Does this happen in real life? Not really… The average age is 4,4 years, with a maximum of 18 years. And two people couldn't even remember when they bought it, so these might even be older dan 18 years.
When looking at the color guides that are ten years or older, or have an unknown age, they are all (also) used as a physical reference for print jobs. And in most cases, an exact color match is considered critical (on average 3,7). And that's a problem, a huge problem.
Below is a slide from a presentation I gave in 2014 at the CMIC Summit from RIT, a presentation titled 'Process control, tales from the trenches'. In that slide, you see pictures of two color guides. The left one is an 'old' Pantone Matching System guide, probably from 1999. The right one is the first generation of the Pantone Plus guides, probably from 2010. Look at the difference between the two yellow patches!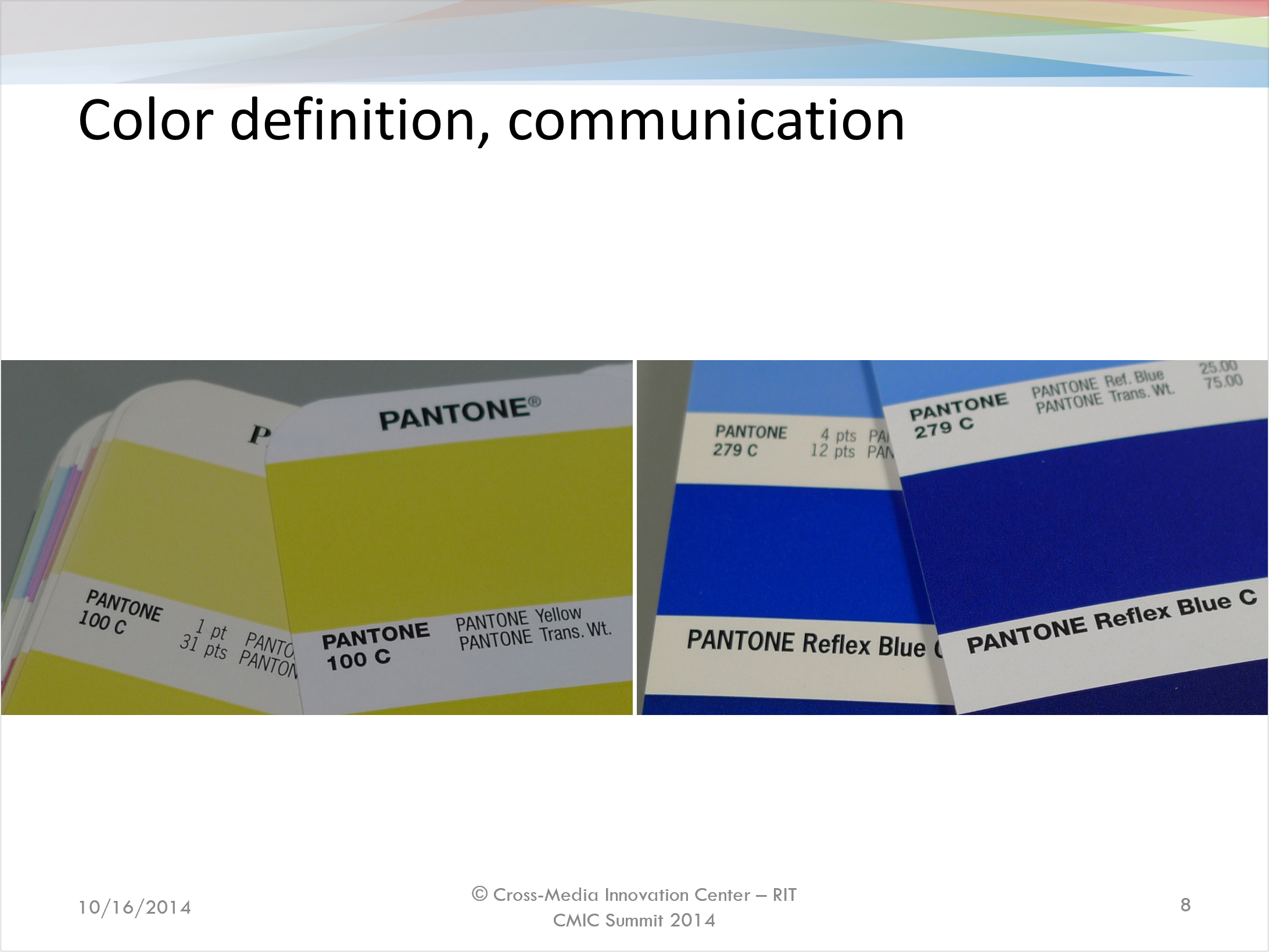 One of the tales from the trenches in my speech (you can see the complete presentation here at Slideshare), was from the Artevelde University College in Ghent (Belgium). One year (2006) they had students measuring two brand new color guides, both right out of the package. In total 452 patches were measured, the average deviation was 2 dEab, in 22% of the patches it was over 3 dEab, the largest deviation 9,46 dEab. Another year, they checked 56 patches in four guides dating from 2003 to 2006. Here the average was 3,95 dEab, the maximum 11,87 dEab. When I showed these results to representatives of Pantone at Ipex 2010, they claimed that their production tolerances are narrower than these figures, but they wouldn't reveal the exact numbers. Now they are publically available: maximum 2 dE00, for about 90% of the colors.
Measurements
So the 1 billion dollar question is: what kind of deviations do we see in the test? Are recent color guides within the specifications? Before sharing the measurements, maybe I should first show the tolerances Pantone mentions on their website.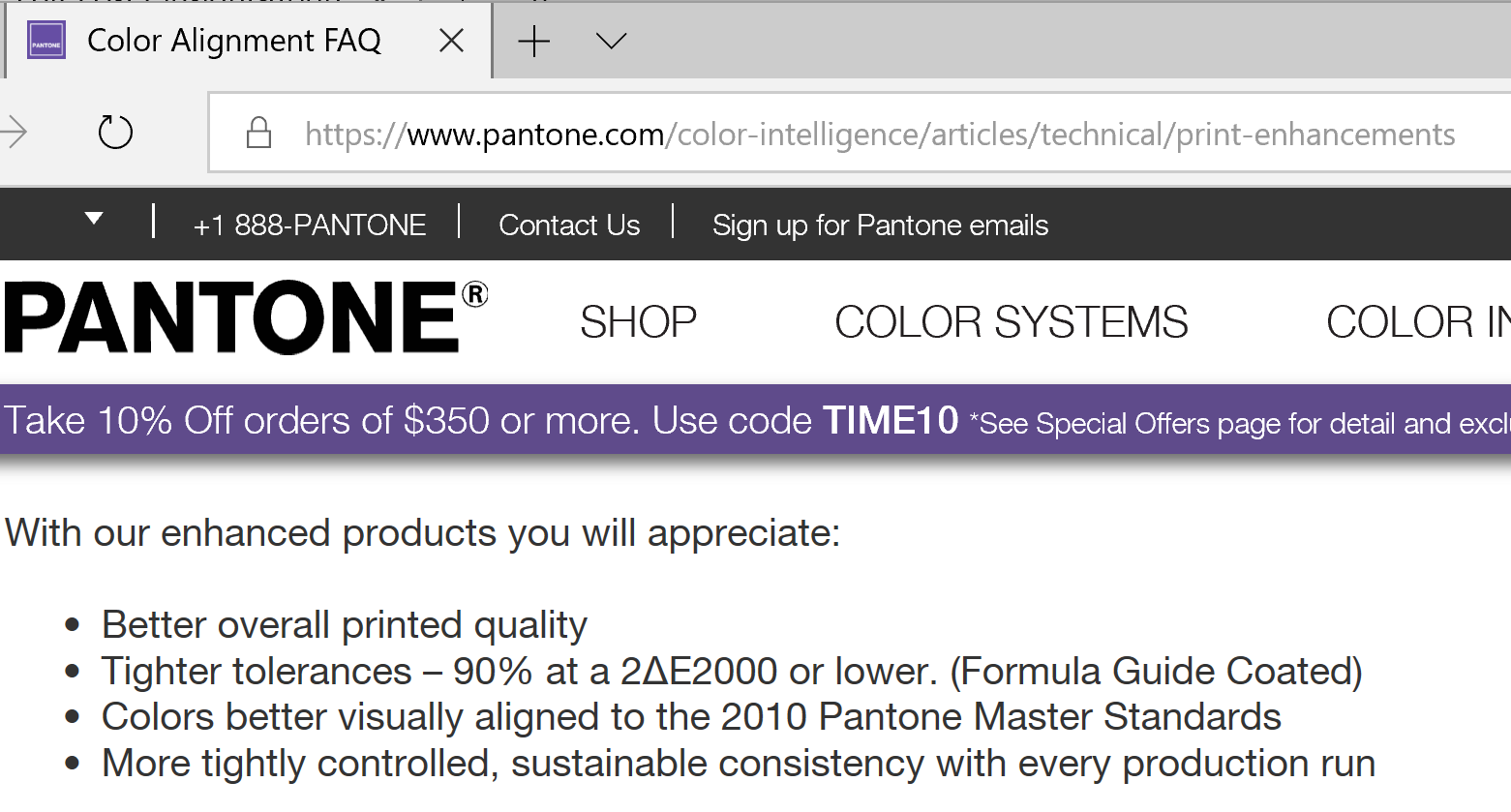 And here's the summary from the 19 participants that shared their measurements.
The average age of the measured color guides was younger than the global average: 3,9 years, with over half of them being bought the past year. But there is one exception: one designer is still using a color guide from 2002! That guide is 16 years old… And you know what's interesting: although the deviations compared to the digital value are significant, it is not the one with the highest deviations.
Below you can see the measurements plotted in the a/b plane.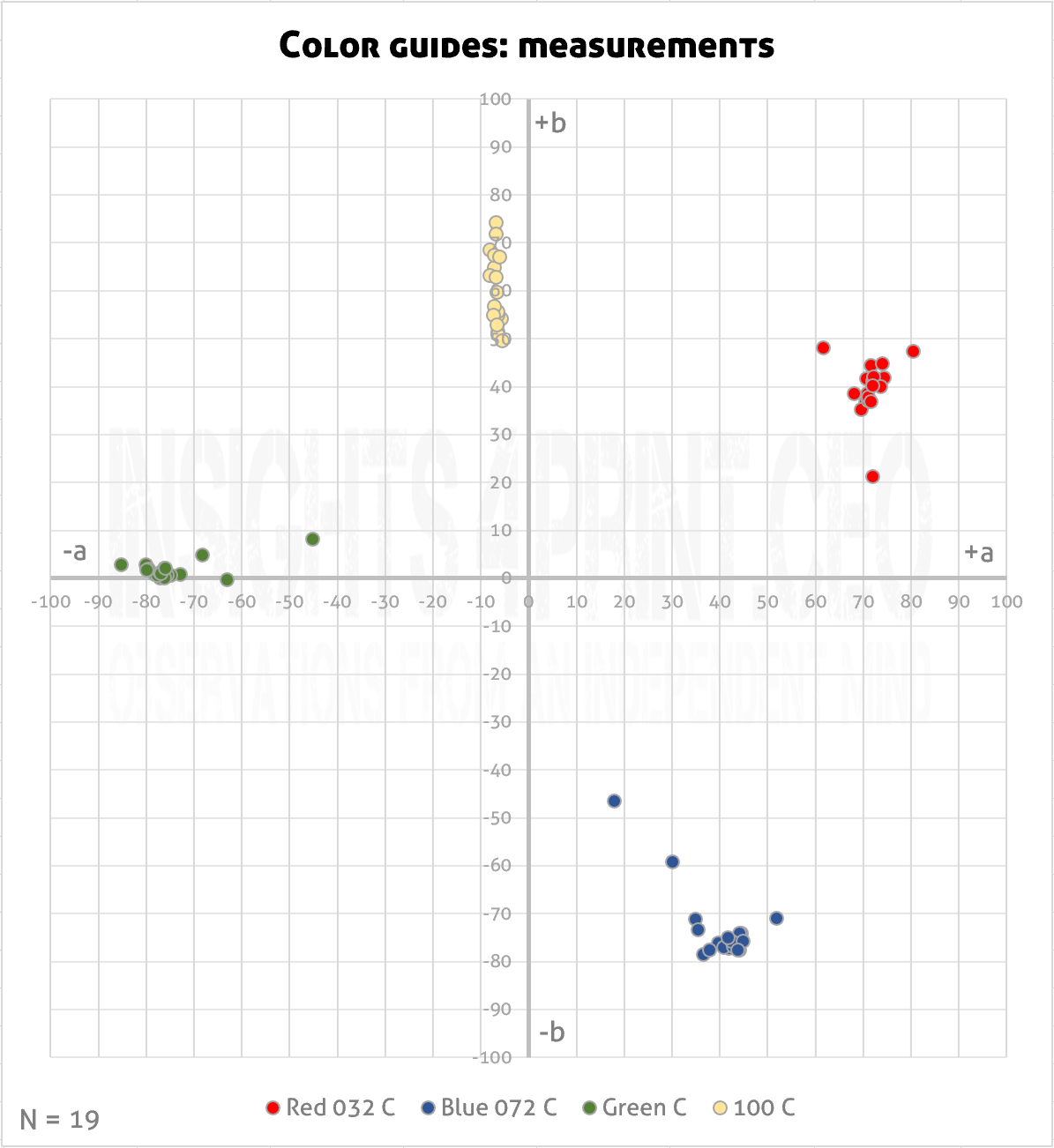 Please note that the maximum color deviations in the first graph are compared to the ideal Lab-value of the color, derived from Adobe Photoshop (they way Pantone recommends if you don't have access to Pantone LIVE). If you compared the most extreme measurements, the number would be higher. And that's what happens in real life, that's one of the points I wanted to make in my previous article: dE has no direction, so one deviation compared to the goal could go into one direction, the other into the opposite direction. As a test, I took two extremes in for Red 032 C, the color deviation is 14,8 dE00! And for the record: both these guides were bought in 2018.
UPDATE: after reading the comment by Ingi Karlsson, I realized that I forgot to mention something: the deviations from the color guides that were still 'valid', under warranty. I got twelve measurements of 'valid' guides, the average dE00 of all patches is still 4,5; the maximum deviation is 11,4 (compared to 11,9). And only 12 of the 48 measurements (12 guides, 4 patches) were below 2 dE00. Ten measurements used M0 mode, one used M1 and another one used M2.
Where did we go wrong?
So, where did we go wrong? Why are these measurements higher than what you would expect? That could be a complicated question. It could be the color guide, it could be the measurement device, including maintenance and calibration. And here's another interesting fact: the strongest deviation in Red 032 C was found with a device that was calibrated, with X-Rite Netprofiler, only the week before. So, what happened?
Also interesting to mention: two participants provided me with measurements that looked quite odd. When I contacted them, they noticed that they made a human error. Another factor to take into account.
So, where did we go wrong? It's difficult to tell, but these findings do show that we should take color tools and procedures very seriously. And we might need to up our game and get tools that are within much tighter tolerances.
Or we can just get real about the tolerances in print production.
CxF to the rescue?
When it comes to exchanging color information, CxF could be part of the solution. This makes it possible to exchange the most detailed color information possible at this moment. And it can also be used as a reference for quality measurements. But it has one downside: it's a set of numbers, any physical representation of it might/will show deviations, it will not be 100% exact. So you need to have faith in such a workflow.
Why is this important?
In my previous blog post, I already raised the question about tool tolerances in print production. This study shows real life: 15 people measured four samples in their swatch book, with their spectrophotometer. And the readings differ. From the 'ideal value', from one another. How can we get tight tolerances, as 2 dE00, when the physical references used by the print buyer on the one hand, and the printer, on the other hand, might be e.g. 5 dE00 apart?
There's still some work to do if you ask me…
(Visited 871 times, 1 visits today)
Like it? Share it! Right now!