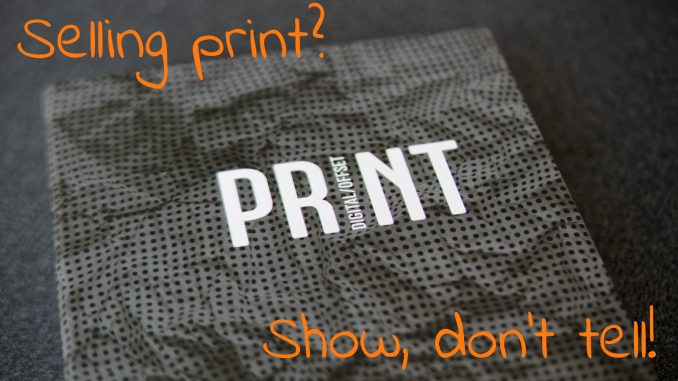 Selling print, it's something special. I've seen all kinds of print salespeople, from printers who excelled at networking and sold their products this way, to the complete opposite: pure online sales. Whether the one or the other approach is the best also depends on the type of print product. But I have one piece of advice for all: show, don't tell! And I recently received an excellent example from Print.com showing this.
CONTENTS: Print.com | Too expensive! | Why is this important?
Long time ago, selling print used to be easy: every village had its print shop, so you just had to go there. If the printer couldn't produce it himself, he would know a colleague who did have the right equipment. But times have changed significantly.
With so many companies offering print products, how do you stand out? Well, one part of that is to show what you are capable of, not just tell it. And with showing, I mean showing print products, not the printing equipment you have. And I was pleasantly surprised when I received the promotional material from Print.com a few weeks ago. They are doing an excellent job at showing what their capabilities are! Take a look at the pictures below.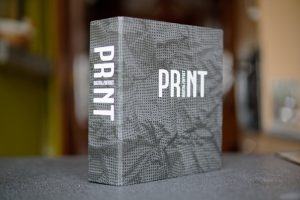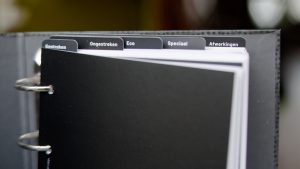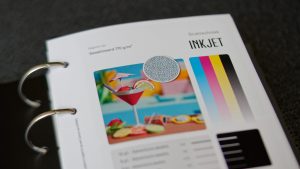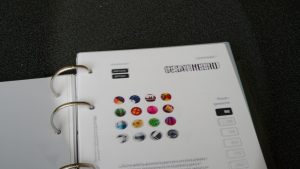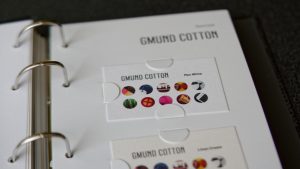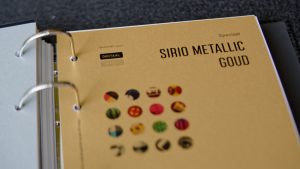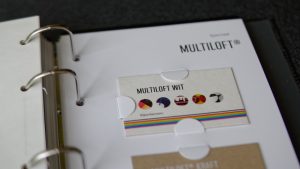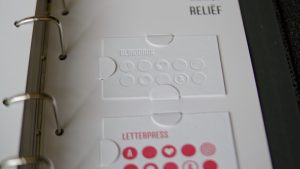 What is also interesting about this binder, is that it shows the different technologies they use: offset, digital – HP Indigo, digital – Canon inkjet, and digital – Landa nano (which is also inkjet). The same information is printed with the four technologies, on the same stock. And it also includes the advantages and disadvantages of the technologies.
Do you remember the promotional picture by Landa, with a magenta dot printed with offset, regular inkjet, and Landa inkjet? Well, below you can see how those compare in real life!

Again something interesting: although the Landa S10P and the Canon Varioprint iX have the same print resolution, the prints look quite different.
The contamination in the Canon sample could be due to the 'refresh dots' since these are also visible in 'non-print' areas. In the case of the Landa sample, this is a contamination I already saw in previous samples, and it doesn't show in the non-print areas.
Too expensive!
I can already hear the comments: do you know how expensive that is, such a binder? Yes, it will cost you money. And such a binder, you shouldn't hand it over to just anybody. But in the case of real prospects, especially creative types: do! Give them such a binder! It will stimulate their creativity and make it easier for them to sell an expensive kind of print product to their customers.
By the way, this reminds me of a discussion I had a long time ago with a printer. He was the first one in my region to introduce a new technique, I think it was spot varnish. He made a special brochure about this, explaining what it was and the advantages of that technique. When I browsed through it, I noticed that he didn't use it himself. So, I asked him why: "Do you know how expensive this is!!!" [sigh] If you are unwilling to pay for that special kind of print for your own brochures, how can you ever convince customers to pay for it?
And investing in promotion has always been a weak point of printing companies. To give you a reference of a successful printing company and its advertising spending, look at my article on Vistaprint (Cimpress).
This reminds me of another anecdote from the past: a small printer phoned his telephone company, with a complaint. He didn't receive any incoming calls that week, so his phone (line) must have had a technical problem! He was so used to having people contact him that he never invested in promotion…
(you might see the irony: he used that same phone line to call the telephone company…)
Why is this important?
As a company, you need to attract new customers, you need to inform existing customers about your capabilities. If you don't attract customers, you don't have a business. The way Print.com shows its capabilities is an excellent example of how you can both inform customers and try to sell them more exclusive, more expensive print products.
(Visited 532 times, 1 visits today)