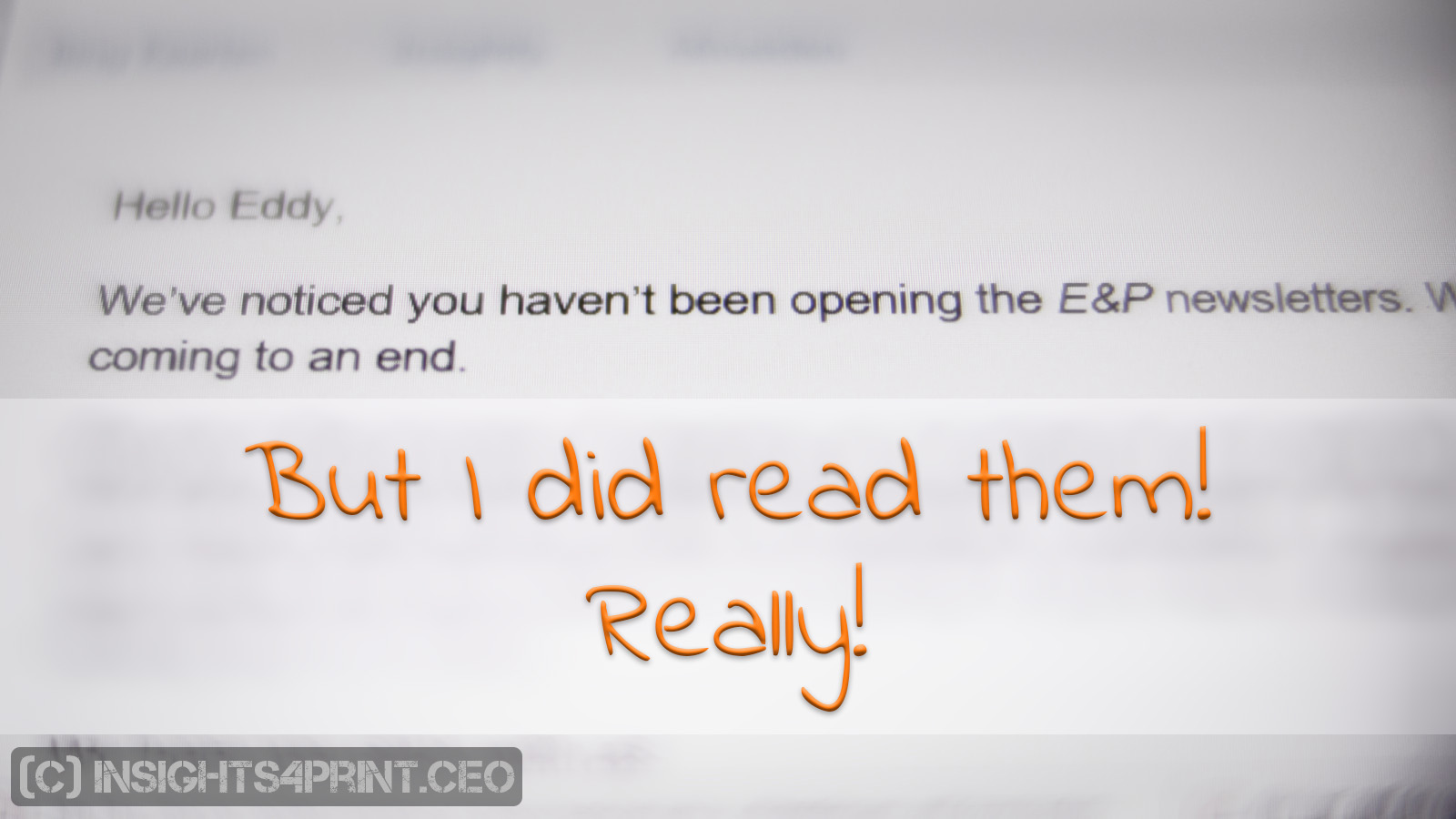 This morning I received an email from Editor & Publisher, one of the few hundred interesting industry magazines I'm following. They said they missed me. As a human being, it gives me a warm feeling when being missed. But as an analyst I could only conclude that they are completely wrong. They just made a serious, but probably very common mistake. I do read their emails, every day. But they weren't able to track it… Because of a very fundamental problem with email opening rates. One that might damage your brand image when you reach out to people who supposedly don't read your emails.
CONTENTS: How are emails tracked? | Fundamental flaw | Damaging your brand image | Why is this important?
How are emails tracked?
In case you don't know, emails are tracked via images in the email message. Images that are located on a server and when the image is downloaded, the server knows that you have opened that specific email. The image doesn't have to be 'visible': it could be a 1 x 1 pixel image that is 100% transparent, so one that you won't actually see.
Fundamental flaw
It might seem a very clever solution to know whether an email was opened or not, but it isn't. There is a very fundamental flaw: you can read the text of the email without the need to download images, including the 'tracking image'. And this is even the default in (many) email clients, e.g. Microsoft Outlook by default does not download images in emails. You have to specifically indicate that you want to download the images, you have to specifically indicate that you trust a specific sender to always and automatically download images in the future.
And that's what happened with the Editor & Publisher newsletters: I did not download the images (and probably didn't click on a link for some time), so the tracking software said the emails remained unread. Although I did read those emails, every one of them…
Damaging your brand image
Acting upon the opening statistics can damage your brand image: the kind of email I got really makes a bad impression. Fortunately I'm just an analyst who understands what's happening, but consider that you do this with a potentially very profitable customer… That might end the relation before it even started.
Why is this important?
Too many marketers, brand owners believe that digital marketing can track everything. They have an unconditional belief in those digital tools. But they aren't perfect, they do have flaws. So be careful when using them for a marketing action, or it might backfire and leave a bad impression.
PS: you might also want to read this article on ZDnet.com about the unpredictability of online marketing and how this is hurting businesses. And in case you haven't seen it yet, here is a tutorial I wrote on how to get print campaigns into Google Analytics.
(Visited 185 times, 1 visits today)