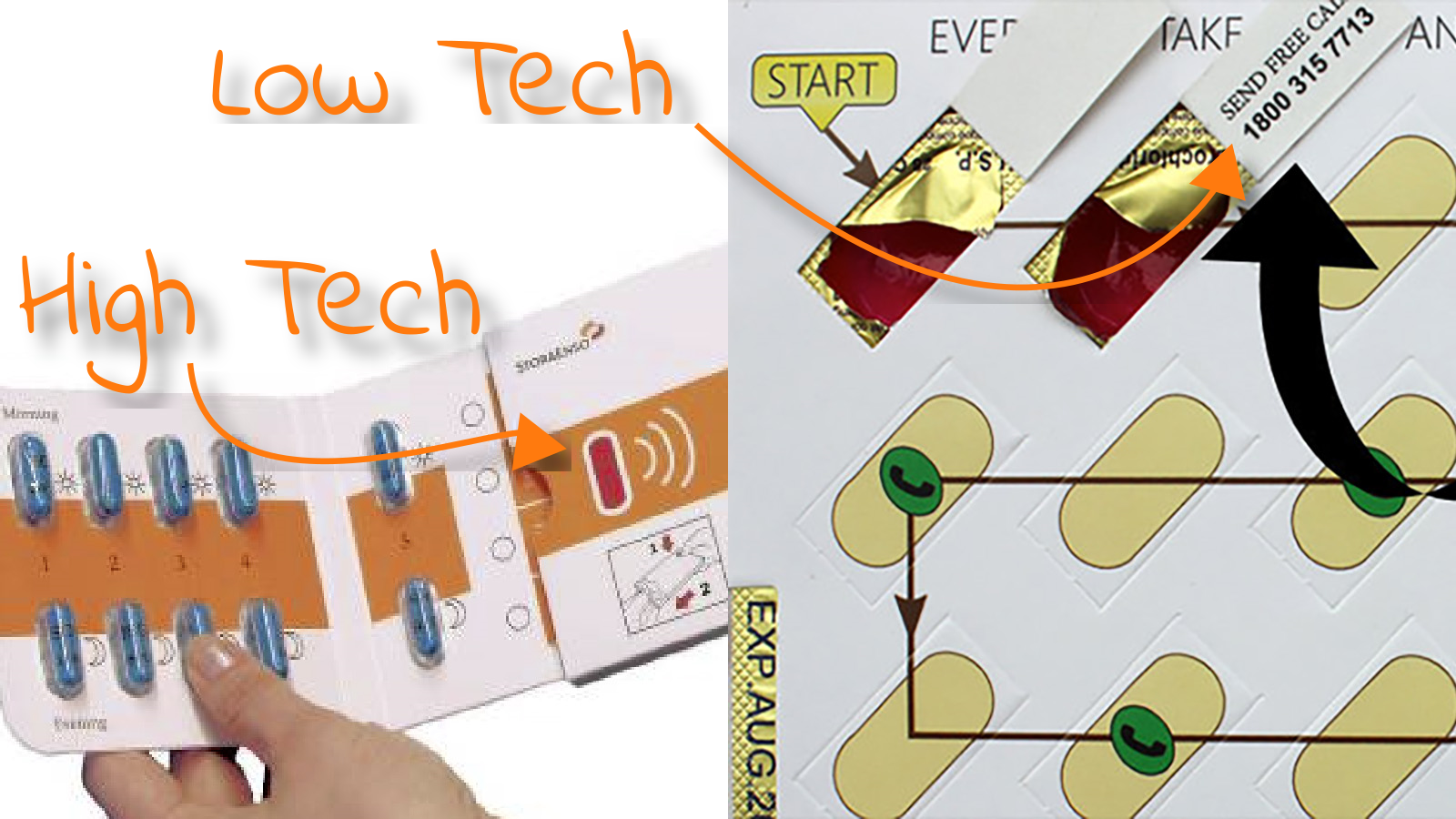 When you hear 'smart packaging', what kind of technology comes to your mind? Probably you think about something high tech, with integrated (printed) electronics and wireless communications. And smart packaging can be like that. But it doesn't have to be: it can also be very low tech…
CONTENTS: The high tech version | The low tech version | Why is this important?
Smart medical packaging has been around already for many years. The one example you usually see, is the StoraEnso DDSi, a blister for medication that will track the usage of the pills, one at the time. It integrates several technologies, as you can see in the slide below. The oldest presentation I found about it, is from 2009. But when looking into patent databases, StoraEnso already applied for a patent for a 'medicament dispense sensing device' in 1998.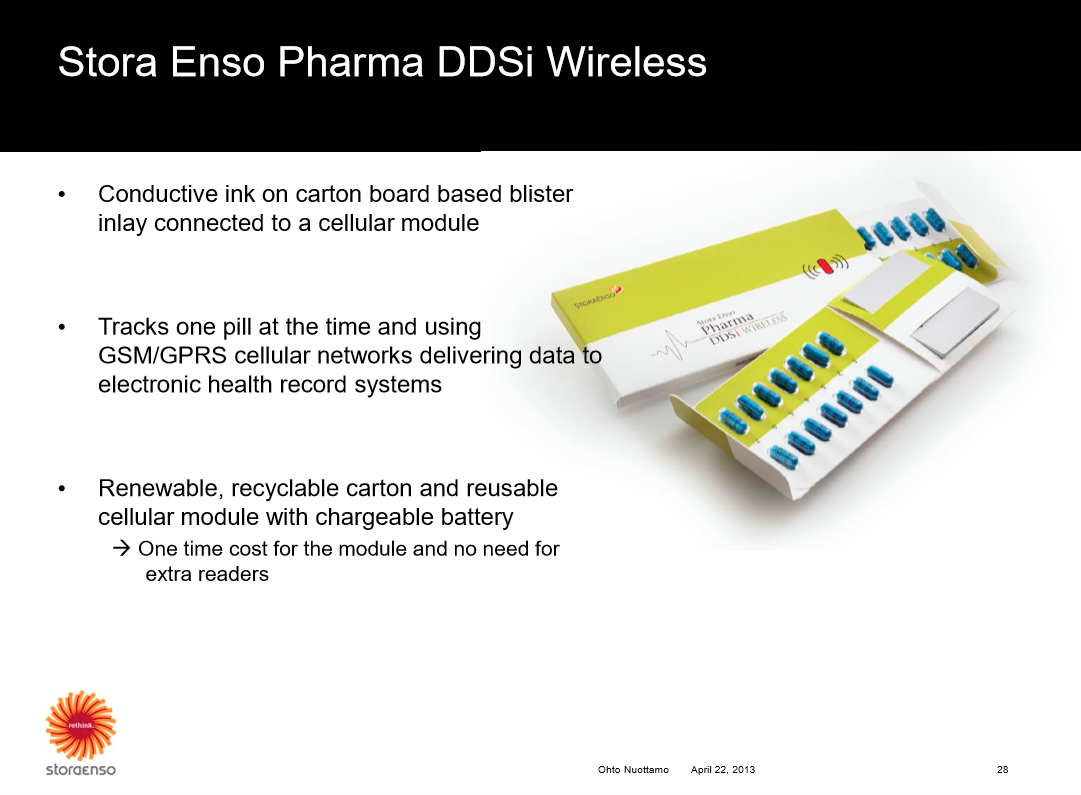 The idea is simple: the package detects when a user takes a pill from the blister and transmits that info. But it takes a lot of tech to realize that simple idea. It must detect when the seal is broken and then it has to send data to the central database. To be able to do that, it requires conductive inks, a chip and an antenna that will transmit the signal.
That kind of smart packaging does have advantages: the cost of not taking a pill can be very high, both at a personal level (with death as the ultimate risk) and at a society level (the cost of healthcare). So there is an incentive to use smart packaging in healthcare. But still, adoption seems to be slow…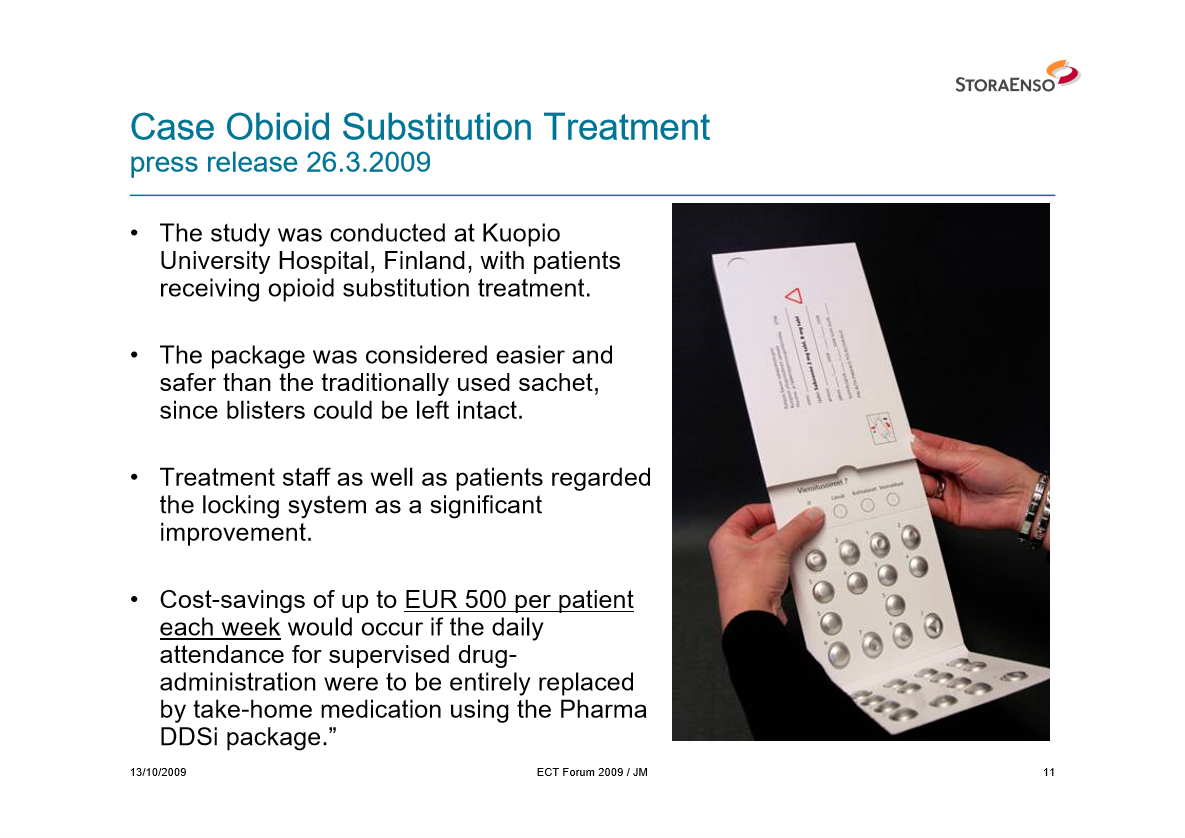 A few years ago (2013), I saw a presentation by StoraEnso, discussion the slow adoption. The issues they saw: government regulations, privacy issues and… the huge amount of data that they had to deal with…
The low tech version
Is it necessary for smart healthcare packaging to be this 'high tech'? No, it isn't. A few weeks ago, I came across this article on a Microsoft Research project.
It describes a rather low tech solution for the same challenge. In the Microsoft case, the smart package is used for the treatment of tuberculosis (TB) in India, a disease that kills more than 300.000 people in India, each year. To treat TB, it is mandatory to take several pills a day for six month. And this needs to be monitored closely.
The power of the Microsoft solution lies in its simplicity and the power of the cloud: the lids of the pills contain a hidden, computer generated toll free phone number which patients have to call when taking the pill. Every other pill contains a phone number. Since these are computer generated, the patient has to open the lid to know which phone number he has to call that time. There is no sophisticated technology to detect if the seal is broken, like in the StoraEnso case.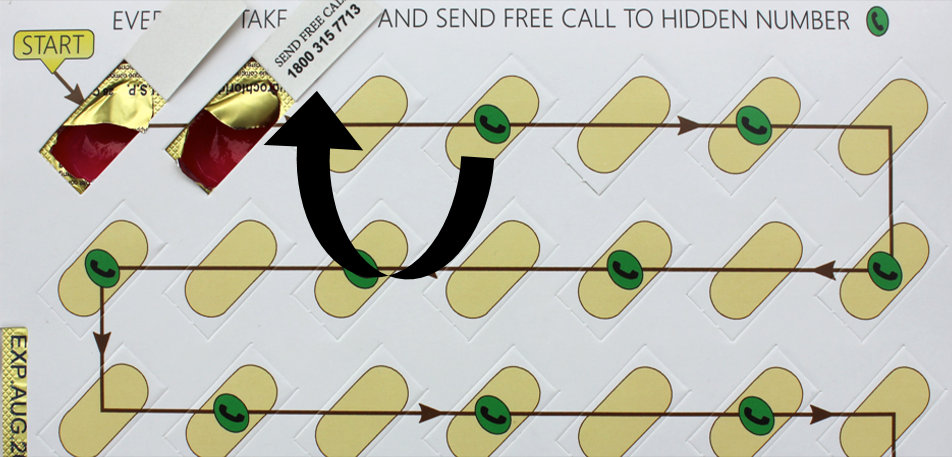 If a patient doesn't take the pill or doesn't call that specific number, the system will send a reminder. Healthcare workers can easily monitor the usage, via the cloud database that is used for generating the toll free phone numbers and the data collection of the users.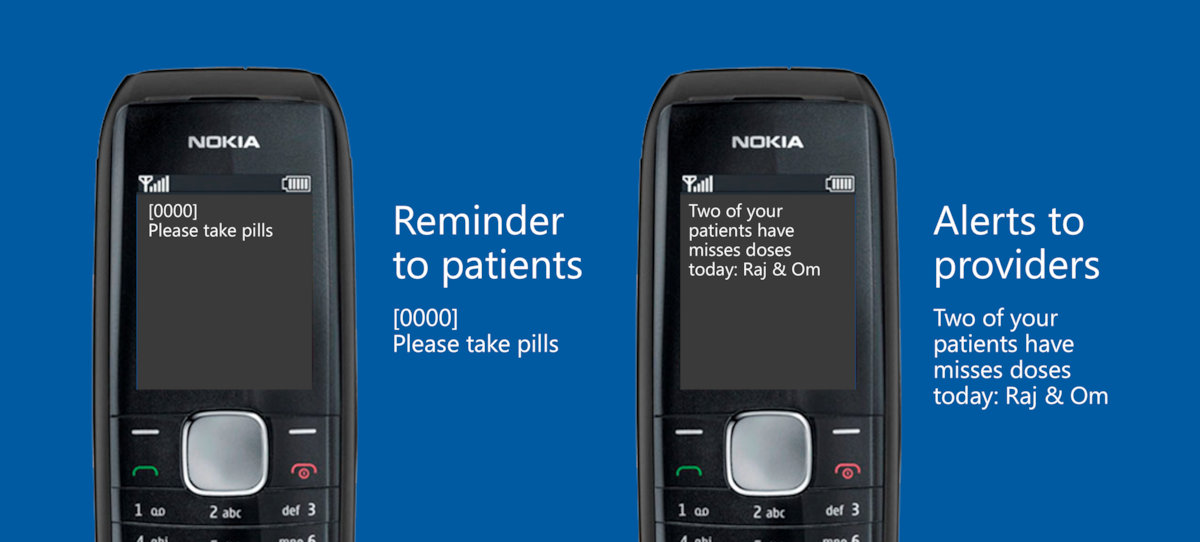 From a production point of view, this is a rather easy solution. You have a piece of printed paper (front/back), with some die cutting, which is glued to the blister. The cloud database must of course be able to deal with a huge amount of data of incoming calls, but in these days with massive e-commerce website and global social networks, that shouldn't be a problem.
The communication is done by the patient, mobile phones are ubiquitous in India. And that's the big difference with the StoraEnso solution: no need for a communication device inside the smart package. Which is rather smart…
Why is this important?
Innovation isn't about complicated stuff and high tech. Innovation is about providing a – preferably elegant – solution to a real life problem. The easier the solution is to produce and to adopt, the higher chances are that it will become a success.
If you compare these two forms of 'smart packaging', the low tech version has a higher change of succeeding than the high tech. But it does take more imagination, more creativity to come up with a low tech version… High tech is often easier to imagine… And that's a risk when trying to innovate.
PS: some time ago I published another article on really low tech innovation and how print can prevent missed sales.
(Visited 928 times, 1 visits today)