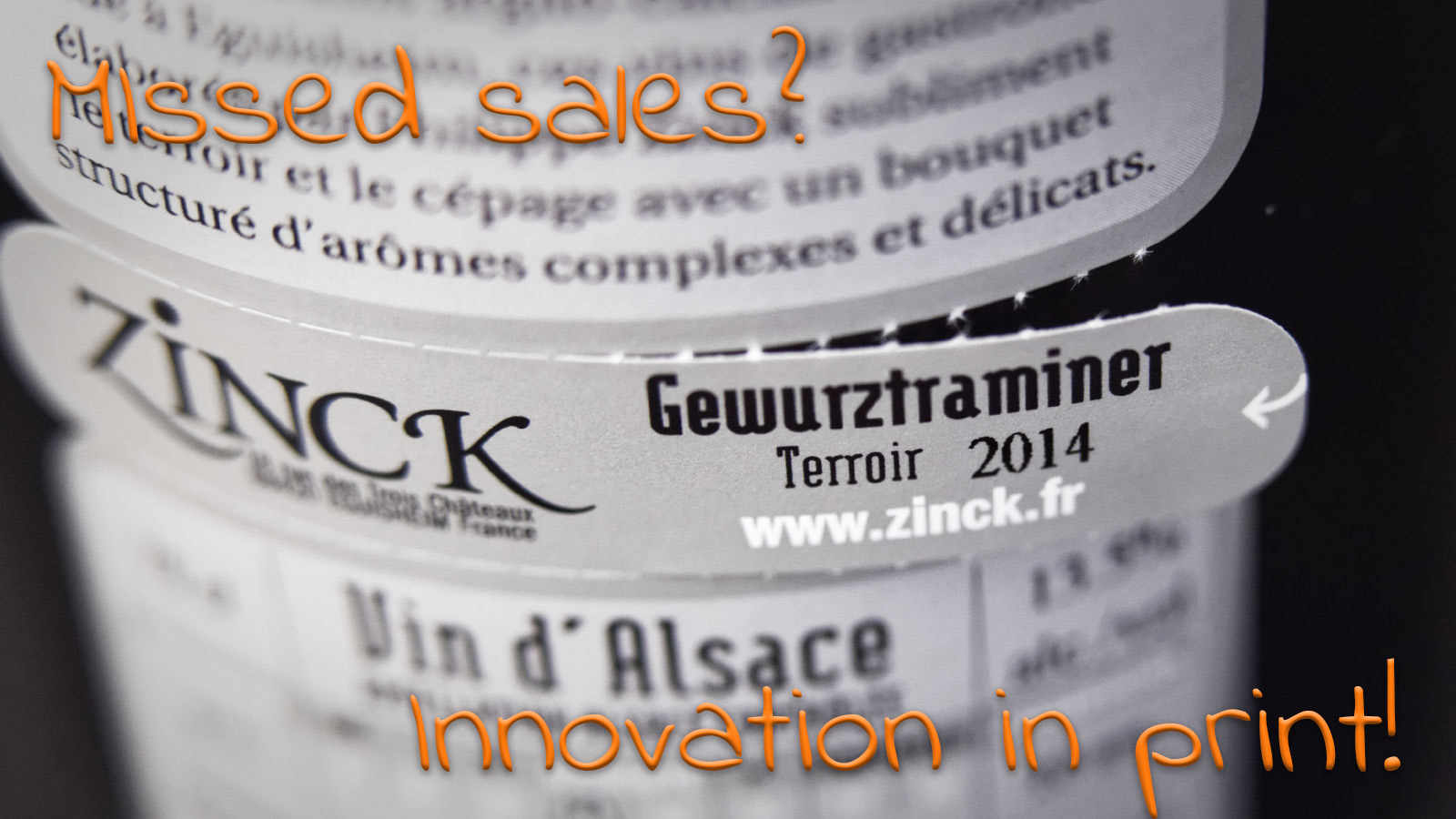 It's probably a big challenge for every company: missed sales. The million dollar question is how you can avoid missed sales. Well, here are two cases where innovation in print provided a solution. Nothing complicated, no high tech, just an easy answer to a real world problem.
CONTENTS: Case 1: the delicious wine | Case 2: 'refilly' | Why is this important?
Case 1: the delicious wine
A number of years ago, I visited my favorite winery in the Alsace region (France). Two older ladies entered just in front of me. And they told the young lady behind the counter that they had a bottle of their 'pinot gris' the previous evening, during diner. And it was delicious, really D-E-L-I-C-I-O-U-S! And they wanted to take some bottles home, as a memory to their excellent vacation. This should have been an easy sale. But it wasn't.
The winery has three distinct types of pinot gris: 'portrait', 'terroir' and 'grand cru'. So the lady behind the counter asked which one they had during diner, the two ladies had no clue… No problem: you can taste the wines on the spot. So the young lady filled two glasses with a bit of the (cheap) pinot gris 'portrait', the older ladies immediately said it wasn't that one. So the young lady started smiling and poured out the more expensive 'terroir', assuming it must have been that one. But it wasn't… And also the grand cru didn't match their memory. Eventually they bought two bottles pinot gris 'portrait', one each. Although they had the intention to buy much more when they came in… A classic case of missed sales.
I went home with a lot more wine, but that's not relevant to the story. When I came home, I noticed that the labels had changed. And not only the label at the front of the bottle, also the one at the back, containing more information about the wine. And that label had a very interesting feature: it contained a small strip that could be teared of. So you could tear it of in the restaurant and take it home, to remember which wine you had. This is a very simple solution: a slightly different die cutting form. Nothing complicated. Nothing high tech. But it works.
Please keep in mind that at that time many people did not have a mobile phone with a camera, so they couldn't make a picture of the label, which is a practical solution today. But even then: that picture sits on your smart phone and you forget it. If you have a physical piece of paper in your wallet, you will notice it one day, or the next.
A few year later I revisited the winery. And this time it was the owner who was serving me. And I asked him who's idea it was, that tear-of label. I hoped he would say it was the idea of his printer, but that wasn't the case. It was his idea, he had asked the printer if he could produce such a label.
Why didn't his printer suggest such a solution? He should have known that this would be an easy fix for the missed sales of a winery. At least: if he knew that his customer had such a problem…
Case 2: 'refilly'
You probably know the situation: you are in a bar or a pub and you really would like a refill, but none of the waiters pays attention to you, deliberate or not. So eventually you go home, without that next drink you were longing for. It happens often, very often. Well, at least to me, I seem to be kind of invisible.
This summer a Belgian brand of beer, Jupiler, launched a solution to that problem: a special cardboard coaster (called 'bierviltje' in Dutch). And it's ingenious in its simplicity: the round coaster has a narrow, narrow rectangular slot die cut into it. The purpose of that slot is that you can put the coaster on your glass (see picture), making it clear that you would like a refill. And therefore the name in Dutch: refilltje ('refilly' would be a good translation).
From a technical point of view, this is really easy to produce: you only need a slightly different die cutting form. Piece of cake. But once again, it wasn't the printer that came up with that idea. It was a cooperation between the brewer and an ad agency in The Netherlands…
Why is this important?
Innovation in print is not about the popular buzzwords like printed electronics, 3D printing, nanographic printing, RFID, smart packaging, NFC. It is about helping customers in a new way, offering them a new solution to their challenges. And from a technical point of view, those solutions can be very simple… Everybody can do this! Yes, YOU can!
But you have to identify the opportunities, e.g. the cases of missed sales or the cases of inefficiencies and irritations. The best way to do that, is to listen to the stories of your customers, to watch them use your print products, to learn about their challenges. And to imagine how a slightly different printed product (e.g. another substrate, another form, die-cutting, …) can offer something new. And how this can offer them a better bottom line, e.g. a slightly more expensive label that provides huge savings in the rest of the supply chain. Eventually this will also be beneficial for your bottom line.
PS: my favorite inspiration sources and insights for innovation are: Stakeholder Centered Innovation (developped by Flanders InShape), Ten Types of Innovation (Doblin), Jobs To Be Done (Clayton Christensen), and also Behavioral Economics (Daniel Kahneman, Dan Ariely).
(Visited 416 times, 1 visits today)